TAGUIG, Philippines – October 28, 2022 — The United Neon Media Group (UNMG) and the Bonifacio Global City (BGC) partnered to bring out "BGC Beyond," a 3D LED billboard launch that aims to take Filipinos beyond the usual experiences through the country's innovative and biggest digital display, last October 27, 2022, at One BHS, 5th Avenue.
Despite the limitations set by the pandemic, BGC and UNMG forged ahead with the collaboration to provide a first-rate digital creative canvas for advertising and promotion executions that every Filipino deserves.
Since 1937, UNMG has continuously participated in uplifting the industry landscape by zeroing in on out-of-home (OOH) initiatives that make brands more visible from generation to generation. Hence, the conglomerate, alongside its 12 subsidiaries, intends to heighten the Filipino spirit and elevate the industry where it plays with the BGC partnership.
Daniel Lim, UNMG's Chief Executive Officer, highlighted that "United Neon has always been committed to bringing the best features of the OOH medium to the public. Here in BGC, we have the perfect venue to feature larger-than-life 3D spectaculars for people to enjoy."
BGC cemented the event by emphasizing that Bonifacio Global City can go beyond as a dynamic district that serves as a home to upscale residences and eye-catching murals. Instead, BGC can also be a space where extraordinary experiences can unfold through constant "reinvention, transformation, and evolution."
In support, Wency Chavez-Tan, UNMG's Media Display Solutions Business Unit Head, stated, "Bonifacio High Street is the best location for this showcase because to appreciate and value the 3D spectacle, the audience should be passers-by who have the chance to pause and watch what's happening on the screen. And BGC absolutely has this high foot traffic."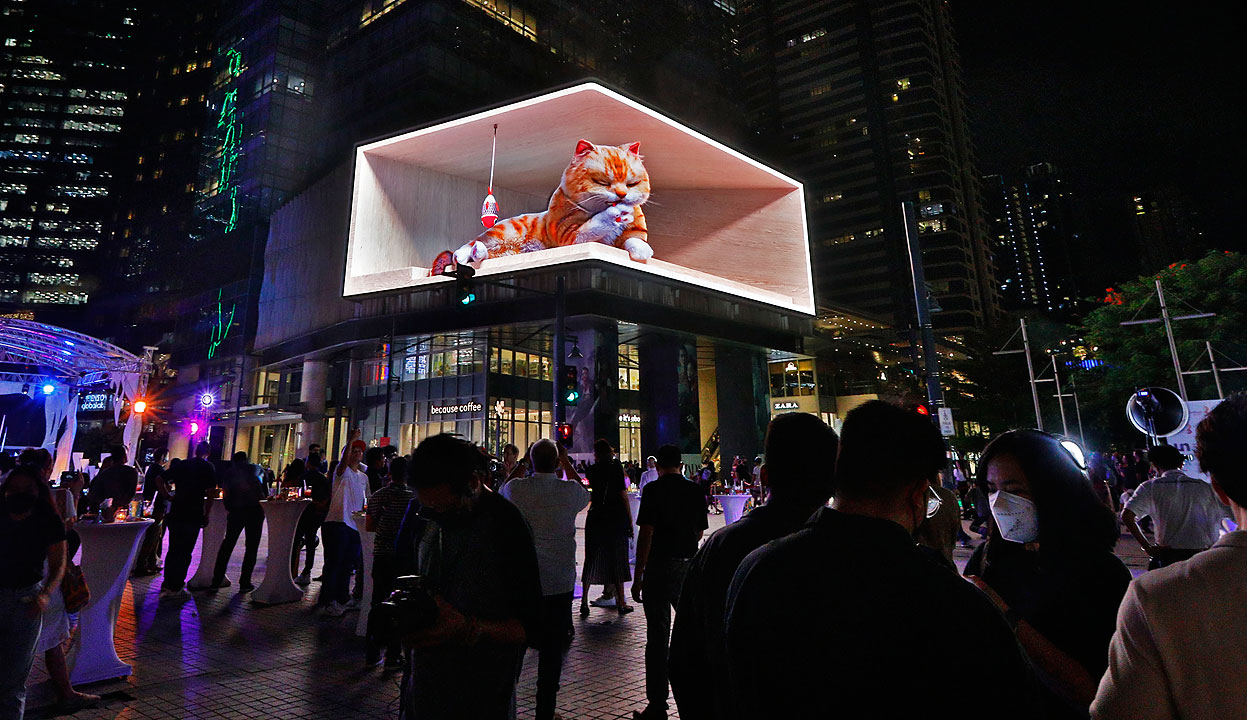 "Naked Eye 3D, or the anamorphic illusion, is an excellent visualizer that surely captures people's attention. Given that BGC has modernized open space, architectural design, and gigantic wall art, people from all walks of life definitely got entertained and relished the moment," Chavez-Tan furthered.
The splashing of colors and making objects move as if in real life during this magical event affirmed UNMG and BGC's commitment to bringing together entrepreneurs from diverse industries at one point and drawing Filipinos nearer to what other nations have already been doing.
"It is every Filipino's desire to say that we have markets and business districts that are on par with the developed countries. With this first-ever 3D Naked Eye LED Billboard, we showcased the ingenuity of brands and the people behind such creative talents. Now, BGC has a bolder, brighter, and jaw-dropping site," — Alpha Allanigui, UNMG's Chief Partnership Officer, said.
As the ad landscape faces global evolution, UNMG and BGC keep their mission alive, forever benefiting Filipinos by turning ambitions into innovations and making this 3D LED debut the benchmark for future breakthroughs.
"The BGC team has been instrumental in helping us get this project from the concept stage to completion. We appreciate how receptive the team at BGC has been to our efforts to push the boundaries of what can be done through out-of-home advertising. We're excited to see this site become a landmark in the city, and we look forward to more cutting-edge projects with the BGC," — Bernie Lim, UNMG's Business Development Head, concluded.
Corporate clients, merchant partners, media, and other guests attended the event while the program started at 6:30 pm, following the launch spectacle and the 3D LED billboard revelation. To further publicize the newest attraction, the organizers encouraged everyone who took pictures at the photo areas to post their snaps on social media platforms with the hashtag #BGCBeyond.